"We increase potential Kelly Strayhorn Theater audiences motivation to visit East Liberty and the KST by using a new point system. "
Context 
collaboration with Kelly Strayhorn Theater through User Research and Evaluation course at CMU
Timeline
 8 weeks (Octobor - December 2020)
Teammates
 Neely Lee, Mike Jin, Nandhini Gounder
Role
UX Researcher, Producer
The Kelly Strayhorn Theater in East Liberty wishes to diversify and boost their audience numbers, and increase retention. They also hope to help bring more business to other establishments in the area. Currently, the obstacles they face include East Liberty having a negative reputation as an "unsafe" neighborhood as well as financial setbacks due to the Covid pandemic. Right now, there are
no compelling incentives
for people to visit and explore East Liberty and get to know the neighborhood and the KST.
We created the
Kelly-Strayhorn Rewards system
that provides customers points for purchasing tickets to recommended KST shows that they can then exchange for discounts and offers at East Liberty shops and restaurants. The system aims to increase the incentives that audiences have for going to the KST and East Liberty.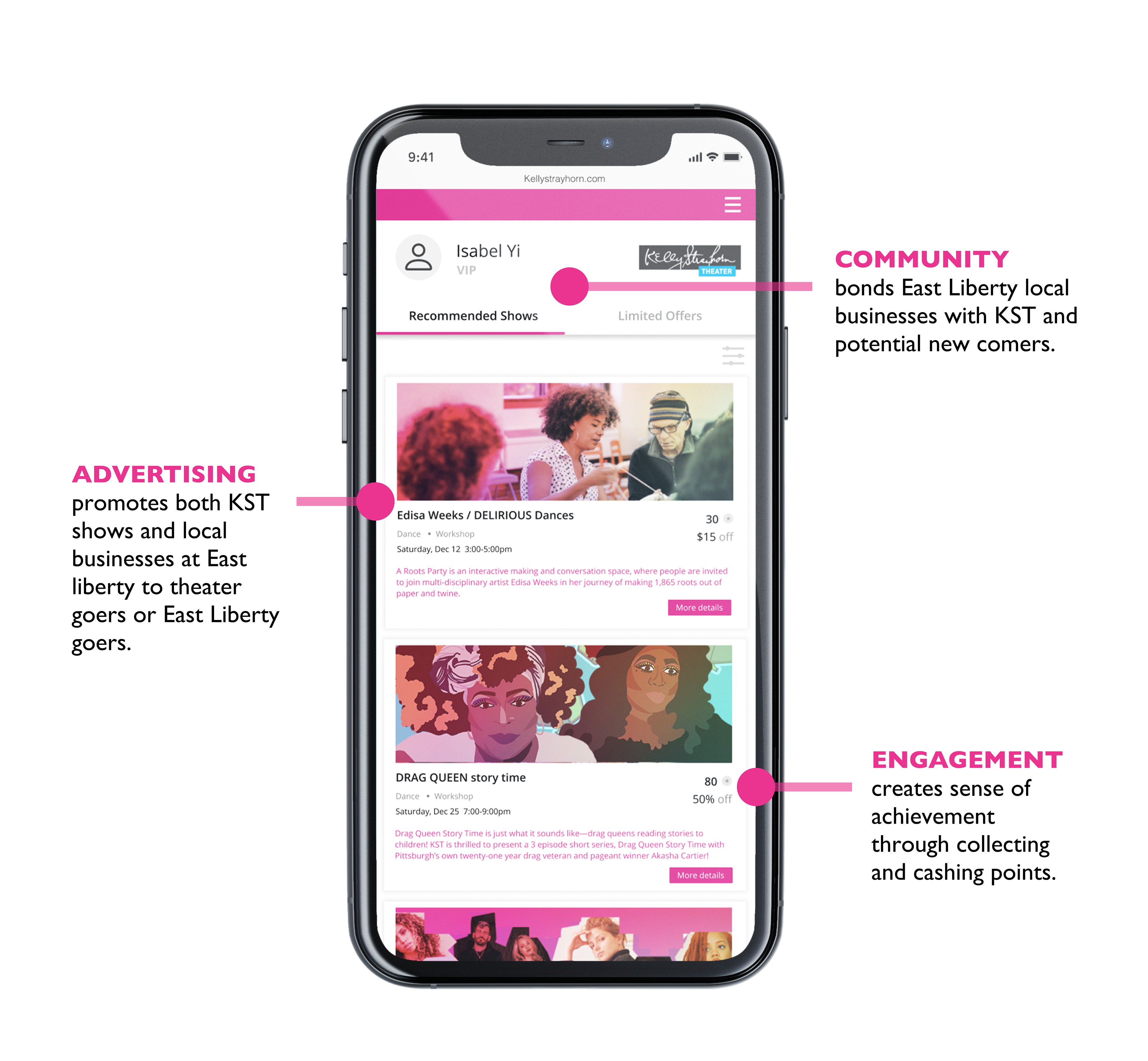 Research Methods
 Contextual Inquiry, Speed-Dating, Think-Alouds, Experience Prototyping
Potential collaboration with more local businesses?
The NPN(North Pittsburgh Network) and some local business along with local schools has generated a good fraction of audiences. We hypothesis that by connecting and collaborating more with the local business/organizations/schools, more audience will be created.
1.  How might we build a more intimate connection with the regular customers?

2.  How might we leverage regular/loyal customers into making more word-of-mouth recommendations to a larger audience?

3.  How might we build sustainable partnerships between users, KST, and local businesses?

Understand people's motivations for going to East Liberty
Context found from preliminary background research: 
People coming to East Liberty for
food
but have no idea about they can seek for entertainment here at KST.
 We reframed the problem by using reverse assumption. We broke the insights down into different assumptions then reversed it. In the end, we picked the idea of creating a rewards/credit system based-on the KST website.

In order to learn more about users motivations, we recruited 4 participants to think-aloud on 4 different theater websites. One of the findings is that: Users really appreciate the comprehensiveness of the information that is provided in the "Eat/Drink" section. The site-specific information provides convenience to the theater attenders, also draws attention of restaurants-goers. 
Through leveraging site resources, we can stimulate the restaurants-goers desire to attend a theater show. 
02 SYNTHESIZE
Through contextual inquiry, we learned about people's main motivation in going to East Liberty, KST, and other local establishments, as well as the incentives that will bring back people and possibly expand community.
After understanding about the customers connection with KST and East Liberty:
Users may have incentives about a credit system and restaurant discounts on the sign up page can draw more user attention
The research method that we have used include direct storytelling, sequence model and artifact analysis. These research method are all embedded in the the semi-structured interview.
03 IDEATE AGAIN!
Conduct speed dating to gather users' reactions and leverage insights using storyboards based on user needs.

Focusing on reward system, but also adding in features generated through other storyboards:
1. Point system
2. A platform to get KST info
3. Limited time offer
4. Advertise shows/East Liberty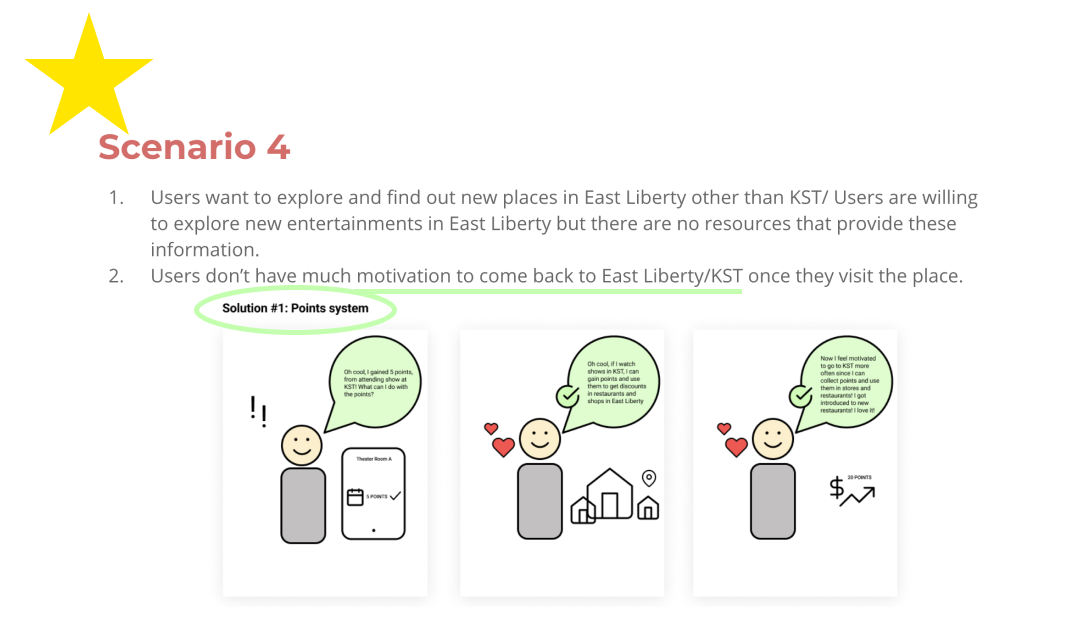 We believe this service has potential to create a strong bond between audience and KST, making theater goers want to come back to KST. We are envisioning this to be an additional service building on top of their existing mobile website and since people are familiar with the idea of a point-rewarding system already, implementing such system will not create any learning burdon making them feel comfortable and confident when using it.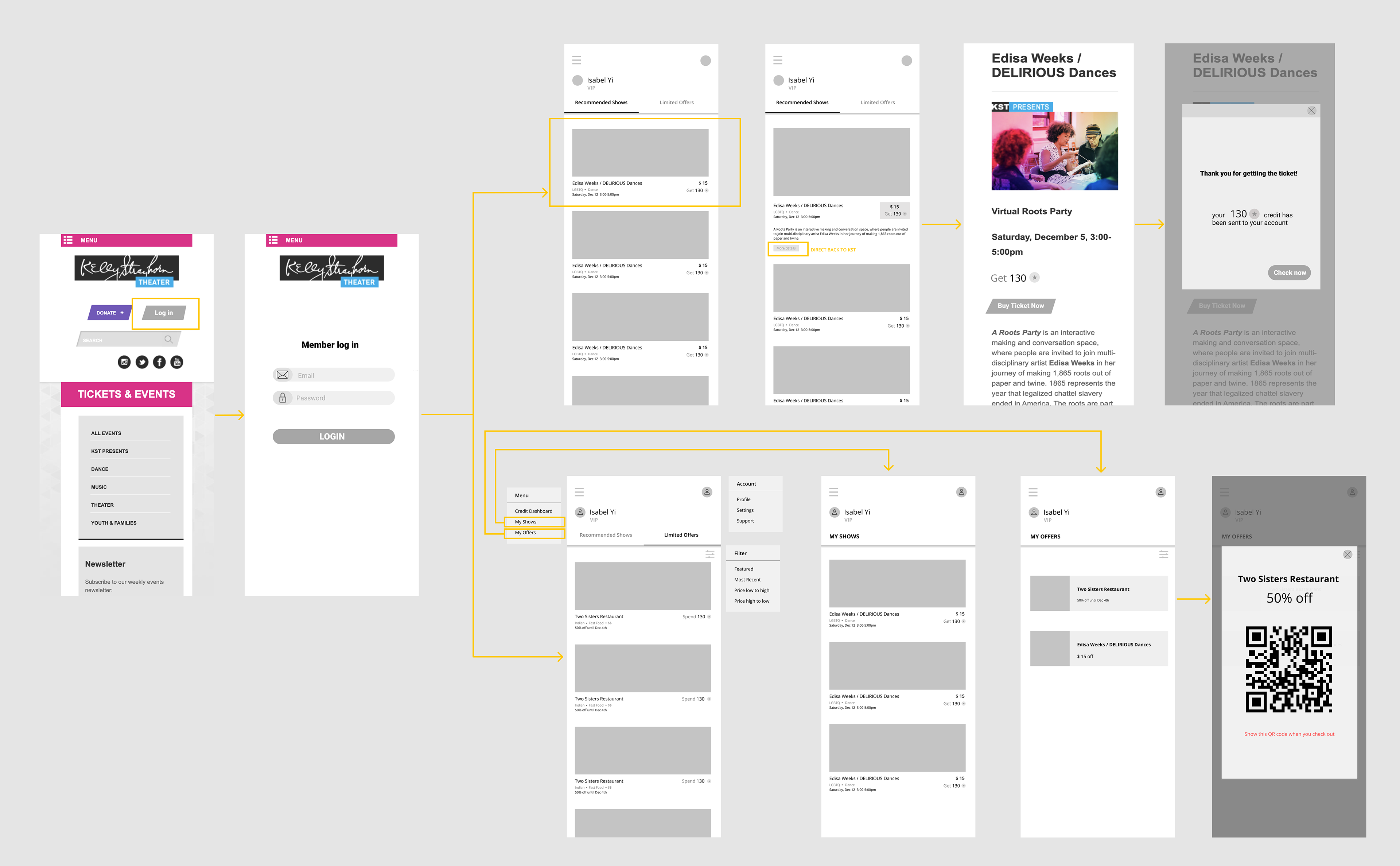 After testing the prototypes with 4 users, we iterated on the flow to be more user-friendly.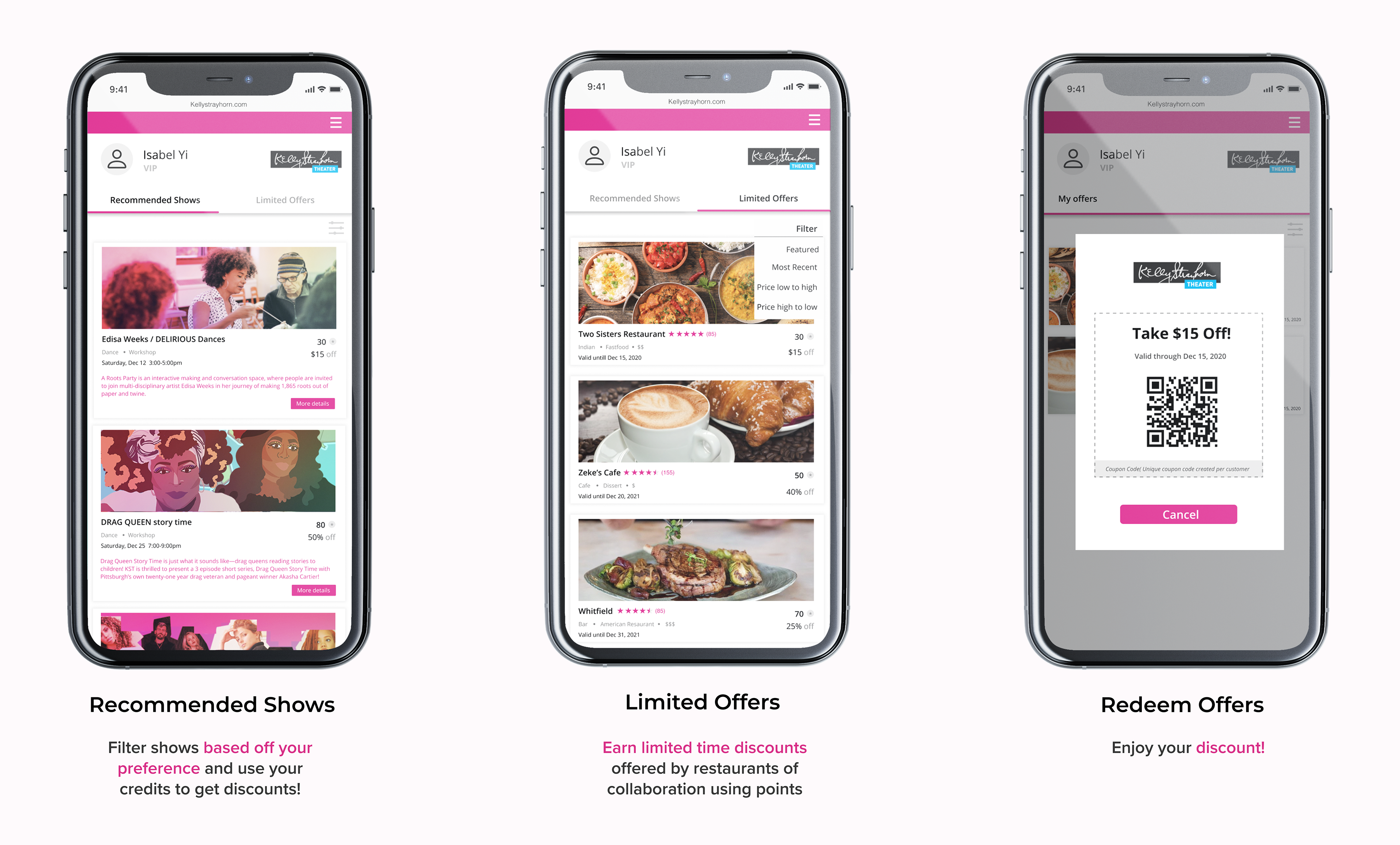 We used research methods like Contextual Inquiry, Speed-Dating, Think Alouds, and Experience Prototyping to discover the issue facing the KST: people are lacking resources and motivation to discover more about the KST and East Liberty. However, they are willing to explore new entertainment options and are often drawn to East Liberty for its restaurants. Thus, we came up with an idea of building a point system on the KST website to encourage partnerships between the KST and local restaurants in order to attract more audiences. We found that people quickly adopt the point system because they are familiar with similar existing systems, and are more willing to discover its potential benefits.